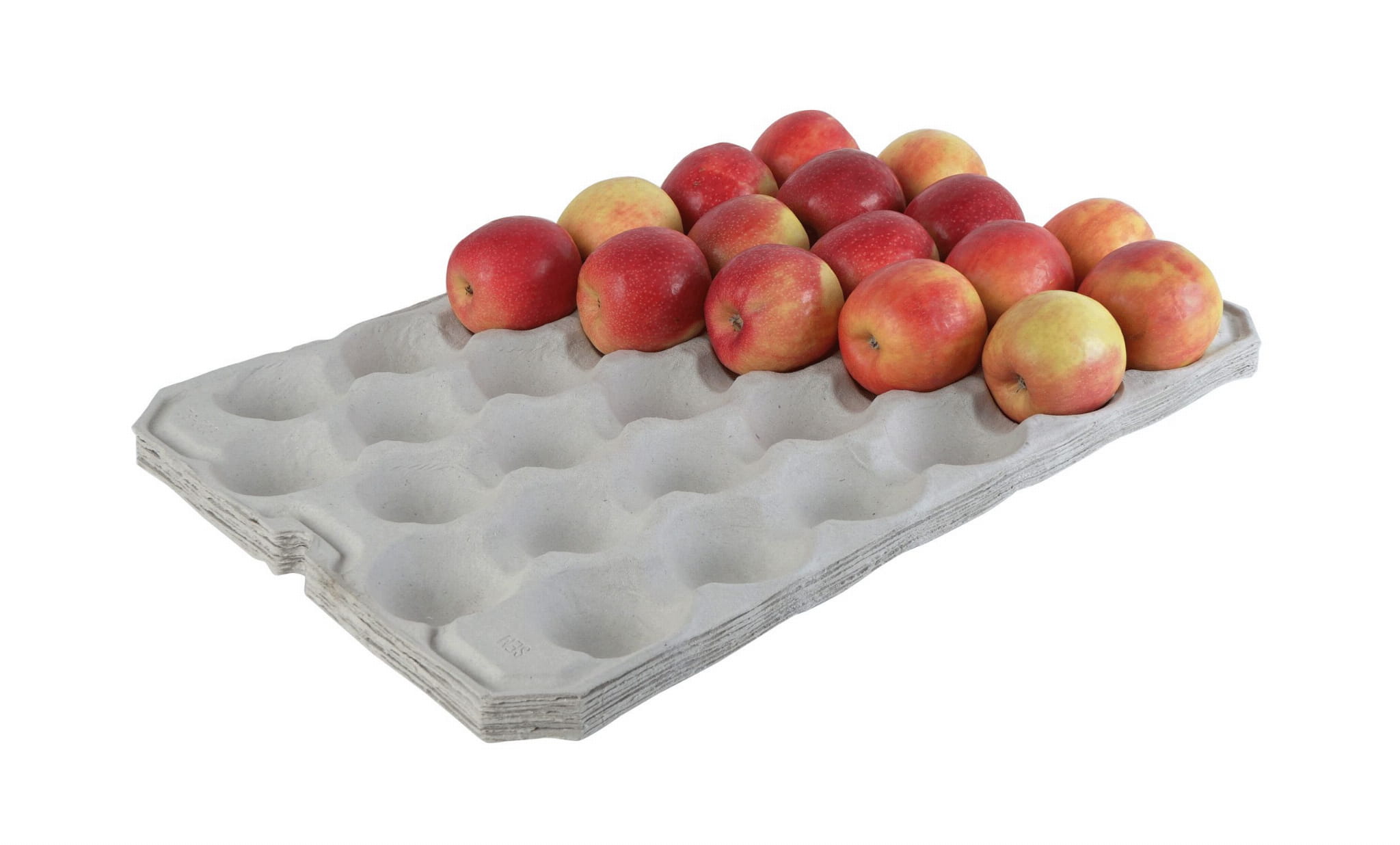 Fruit Trays
Fruit trays, paper pulp cellulose spacers are an ecological alternative to plastic apple trays.
Ecological apple trays are an essential element that protects the fruit during transport, distribution and presentation of the product to the consumer.
Fruit trays protect against mechanical damage and maintain the attractiveness of the fruit during transport thanks to the properties of the pulp.
These products are in line with the latest pro-ecological trend and meet the expectations of customers in terms of quality.

Apple Trays SMART 480x285

| Tray number | Cell size [mm] | Cell amount/tray | Tray amount/box |
| --- | --- | --- | --- |
| 88 | 76-83 | 22 | 4 |
| 100 | 72-80 | 20 | 5 |
| 113A | 65-72 | 23 | 3 |
| 113B | 65-72 | 22 | 2 |
| 125 | 66-73 | 25 | 5 |
| 138A | 63-70 | 28 | 3 |
| 138B | 63-70 | 27 | 2 |
| 150 | 60-67 | 30 | |
Apple Trays 500x300

| Tray number | Cell size [mm] | Cell amount/tray | Tray amount/box |
| --- | --- | --- | --- |
| 88 | 76-83 | 22 | 4 |
| 100 | 72-80 | 20 | 5 |
| 113A | 65-72 | 23 | 3 |
| 113B | 65-72 | 22 | 2 |
| 125 | 66-73 | 25 | 5 |
| 138A | 63-70 | 28 | 3 |
| 138B | 63-70 | 27 | 2 |
| 150 | 60-67 | 30 | 5 |
Apple Trays 600x400

| Tray number | Cell size [mm] | Cell amount/tray | Tray amount/box |
| --- | --- | --- | --- |
| 30 | 70(+/-2) x 67 (+/-2) | 30 | 2 |
| 32 | 70(+/-2) x 60 (+/-2) | 32 | 1 |
| 33 | 70(+/-2) x 60 (+/-2) | 33 | 1 |
| 35 | 70(+/-2) x 60 (+/-2) | 35 | 2 |
| 36 | 70(+/-2) x 60 (+/-2) | 36 | 1 |
| 38 | 55(+/-2) x 70 (+/-2) | 38 | 1 |
| 39 | 60(+/-2) x 60 (+/-2) | 39 | 2 |
| 42 | 70(+/-2) x 67 (+/-2) | 42 | 2 |